Absorbent Minds
Regular price
£53.99
Offer price
£32.99
Unit price
per
(Ex VAT)
Offer
Out of Stock
by Tim Seldin and Paul Epstein
The Montessori Way is more than a beautiful coffee table book: it is in-depth, yet easy-to-read by authors by Tim Seldin and Paul Epstein, Ph.D. explaining Montessori education in layperson's terms, from the early years through to secondary school.
View full details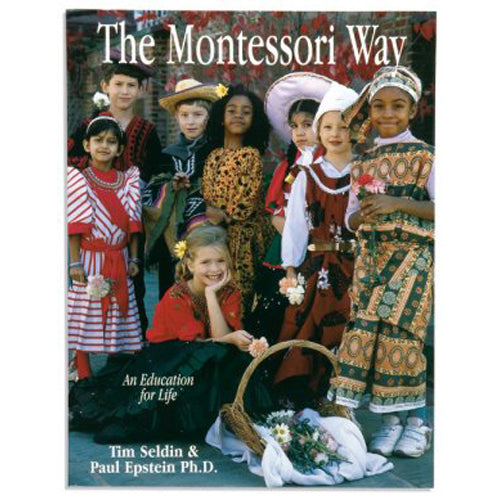 Product Description

Book: The Montessori Way

This book offers observations of the child in primary and secondary schools, as well as the more familiar 3- to 6-year-olds in nursery settings.


Everything explained is accompanied by numerous illustrations and photographs, including children demonstrating use of the Montessori materials.


Curricula topics include Montessori's hands-on approach to science, foreign languages, arts and health, wellness and physical education. It has helpful suggestions of how to apply Montessori in the home: The Montessori Way has a chapter full of many practical ideas, including how to organize the bedroom, bathroom, kitchen, and an arts-and-crafts area.


Special Needs are covered in the chapter called Learners with Exceptionalities, which includes essential questions for the Montessori parent and school. The chapter section concludes with in-depth examples of how individual children learn in the Montessori environment.


This 272-page guide is a must for everyone interested in Montessori education in the 21st century, especially beyond the nursery 3- to 6-year-level.


Anyone who is teaching, running a nursery, or is a parent considering keeping their child with the Montessori system for a few more years beyond six years old should own a copy.


Product details Paperback: 272 pages Publisher: The Montessori Foundation Press (2006) Language: English ISBN-10: 0974638706 ISBN-13: 978-0974638706


Tim Seldin and Paul Epstein, Ph.D. A comprehensive introduction to the philosophy and approach practiced in Montessori schools. For parents, educators and anyone looking for an explanation of Montessori education.  272 pp, soft cover, 2006 edition.