Absorbent Minds
Regular price
Offer price
£1.69
Unit price
per
(Ex VAT)
Offer
Out of Stock
View full details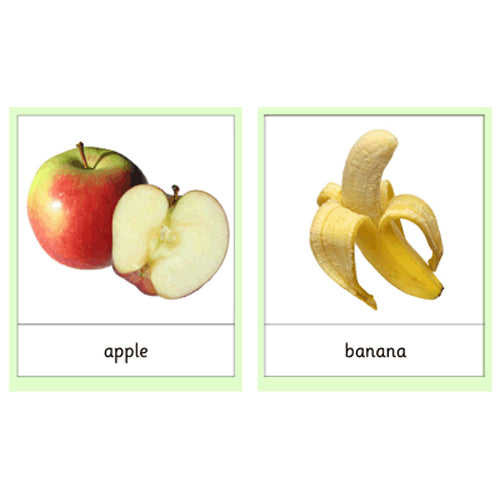 Product Description

Fruit Classification Cards .pdf File

 


Montessori Nomenclature / Classification Cards .pdf File: Fruit ideal for vocabulary learning, classification and picture matching.  An excellent first activity would be to match the cards to items in the fruit bowl.

17 picture cards, 17 word cards and 17 labelled picture cards of various common fruits:

o lemon

o orange

o blackberries

o grapes

o kiwi fruit

o apple

o pear

o melon

o pineapple

o papaya

o mango

o raspberries

o strawberries

o blueberries

o cherries

o peach

o banana

An excellent way of teaching children the names of various fruits. The cards can be classified into groups eg: tree fruit, bush fruit etc., or by climate/country, or combined with the matching vegetable cards and then re-classified.

In Montessori education, the classification of items is an important activity that helps children develop their cognitive skills and their understanding of the world around them. Here are some reasons why the classification of items is significant in Montessori education:

Develops cognitive skills: Classification exercises require children to categorize objects based on specific criteria, which involves critical thinking and problem-solving. Through this process, children develop their cognitive skills and learn to analyze and synthesize information.

Encourages exploration: Children are naturally curious about the world around them, and classification activities provide an opportunity for them to explore and discover new things. By classifying items, children develop a deeper understanding of the characteristics and properties of objects.

Enhances language skills: Classification activities often involve the use of language, as children are required to describe the objects they are categorizing. This helps to build their vocabulary, enhance their communication skills, and improve their ability to express themselves.

Fosters independence: Montessori education emphasizes the importance of independence and self-directed learning. Classification activities are designed to be self-correcting, allowing children to work independently and at their own pace.

Provides a foundation for further learning: The ability to classify items is a foundational skill that is essential for many academic subjects, including science, mathematics, and language. By developing this skill early on, children are better prepared for success in these subjects as they progress through their education.

Picture matching can be a valuable activity for pre-reading children for several reasons:

Development of visual discrimination skills: Picture matching helps children learn to distinguish between different objects, shapes, and colors. This activity can help to develop their visual discrimination skills, which are crucial for reading comprehension.

Vocabulary development: Picture matching can introduce children to new words and help them build their vocabulary. When children match pictures to words, they are learning to associate a word with a specific image, which can help them understand and remember new vocabulary words.

Letter recognition: Picture matching can help children learn to recognize letters and their corresponding sounds. When children match a picture to a word, they are associating the letters in the word with the sound the word makes.

Memory skills: Picture matching can also help children develop their memory skills. As they match pictures to their corresponding words, they are using their short-term memory to remember the pictures and words they have seen.

Cognitive development: Picture matching can help children develop their cognitive skills, such as attention, concentration, and problem-solving. These skills are important for academic success and can be developed through fun and engaging activities like picture matching.

 

o clear photographs on a white background

o cutting lines

o very easy to make: just print and cut

o tested in a Montessori setting

o lesson plan available on request

o over time damaged cards can be quickly reprinted at no further charge.

The photograph shows the pages as you would print them and a selection of the cards as a suggestion of how to prepare them.

 


PLEASE NOTE: A link to download this Adobe .pdf file to make cards will be e-mailed to the buyer and therefore there are no postage costs. You will need to print and mount the cards yourself. These items are copyrighted Adobe .pdf files, for personal use only, neither the file nor any part thereof may be shared, e-mailed or posted on the internet in any form. It is a condition of this sale that you agree to these terms, by purchasing you are accepting them. Download links are available in your account dashboard, please download and save to your harddrive before they expire.

 


 

Related Products
0

Regular price

Offer price

£2.69

Unit price

per

(Ex VAT)

0

Regular price

£7.50

Offer price

£5.00

Unit price

per

(Ex VAT)