Absorbent Minds
Regular price
Offer price
£2.39
Unit price
per
(Ex VAT)
Offer
Out of Stock
View full details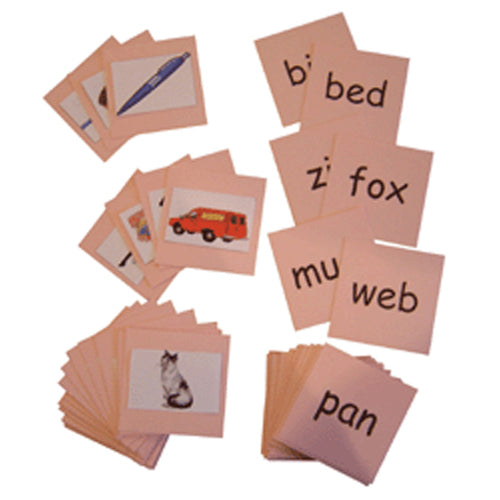 Product Description

Pink Series Phonics Reading Cards .pdf File

30 picture cards and 30 matching word cards (6 for each vowel) as studied in Montessori settings:

- all words are 3 letter CVC words (consonant, vowel, consonant)

- every word card has a matching picture card

- 6 cards for each medial vowel sound

- all words have regular phonic pronunciation

- clear pictures

- handwritten style font for easy reading

- optional Sassoon font with red consonants and blue vowels

This set is used to introduce the child to reading. The children match the picture and word cards, by sounding out and blending the sounds to read words. There are over 6 pairs of rhyming words/pictures included to help a child recognise the sounds in words.

This set is equally useful at home or in non-Montessori settings where a phonics approach to reading (such as 'Jolly Phonics') has been adopted.

cutting lines

very easy to make: just print and cut

tested in a Montessori setting

over time damaged cards can be quickly reprinted at no further charge.

PLEASE NOTE: A link to download this Adobe .pdf file to make cards will be e-mailed to the buyer and therefore there are no postage costs. You will need to print and mount the cards yourself. These items are copyrighted Adobe .pdf files, for personal use only, neither the file nor any part thereof may be shared, e-mailed or posted on the internet in any form. It is a condition of this sale that you agree to these terms, by purchasing you are accepting them. Download links are available in your account dashboard, please download and save to your harddrive before they expire.